Are Cookies Bad + How to Clear Them - Panda Security Mediacenter
Have you ever browsed an eCommerce website, adding potential purchases to your cart, only to exit your browser and not submit an order during the session? Did you ever find yourself navigating back to the site, pleasantly surprised that your cart still held those items? For that, you can thank internet cookies. Browser cookies allow a site to provide a personalized user experience by storing small pieces of information.
If cookies didn't exist, every time you visited a new page of a website, you'd enter preferences like your language, currency, and authentication that you are not, in fact, a robot. So how are cookies bad?
The standalone data of a cookie is not inherently bad, nor a type of malware. It's the concern of what a website will do with that data that can be harmful to a user's privacy. Virtual criminals could potentially use the information from cookies to data-mine browsing history. As a responsible web user, you should distinguish the types of cookies you want to allow and to what extent.
What Are Cookies?
Cookies are stored fragments of user data used to improve the browsing experience. Cookies, commonly referred to as HTTP, web, internet, or browser cookies, are created by your server and sent to your browser. The exchange of information allows a web page to identify your computer and serve tailored information about your current and future sessions as a personalized experience.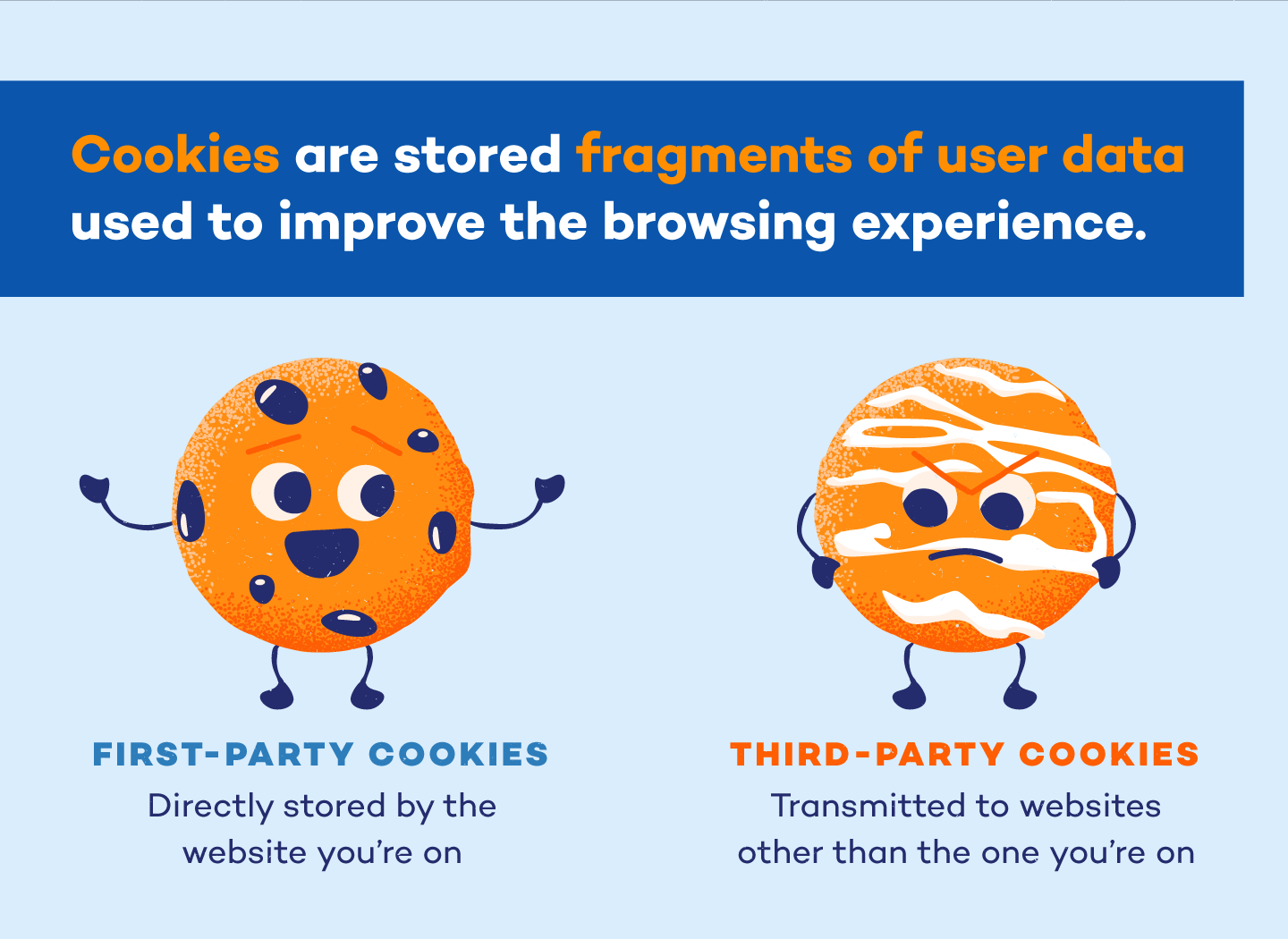 The primary distinction to make when storing cookies is whether they are first-party or third-party cookies. First-party cookies are those directly stored by the website you're visiting. They calculate things like the number of sessions and page visits. In contrast, third-party cookies can be transmitted to another website other than the one you're visiting. This is typically where privacy concerns come in.
H2: Types of Cookies
Cookies, in theory, are a good thing. The personalization of browsing lends itself to a streamlined user experience. The most undesirable version, on the other hand, can replicate information from a cookie even after it's been deleted.
Session cookies: Session cookies are perhaps the safest form of web cookies. While their function allows a website to remember a computer while browsing from page to page, when the session ends—so does the cookie and transfer of information.
Persistent cookies: Persistent cookies exist in more of a permanent way to maintain user preferences. They're primarily used for authenticating a specific computer so you stay logged in while navigating between pages. These cookies will also track multiple visits to the same webpage. So when an eCommerce website remembers the items in your shopping cart after navigating away from the page, you have persistent cookies to thank.
Evercookies, Zombie Cookies, and Supercookies: All one and the same, these "cookies" are not actually cookies at all. Rather than stored data, they are routines that recreate themselves even after a browser cache has been cleared. When you delete one, they'll often still exist in others—typically video browser software like Microsoft Silverlight and Adobe Flash, which allow access to the same data in several locations.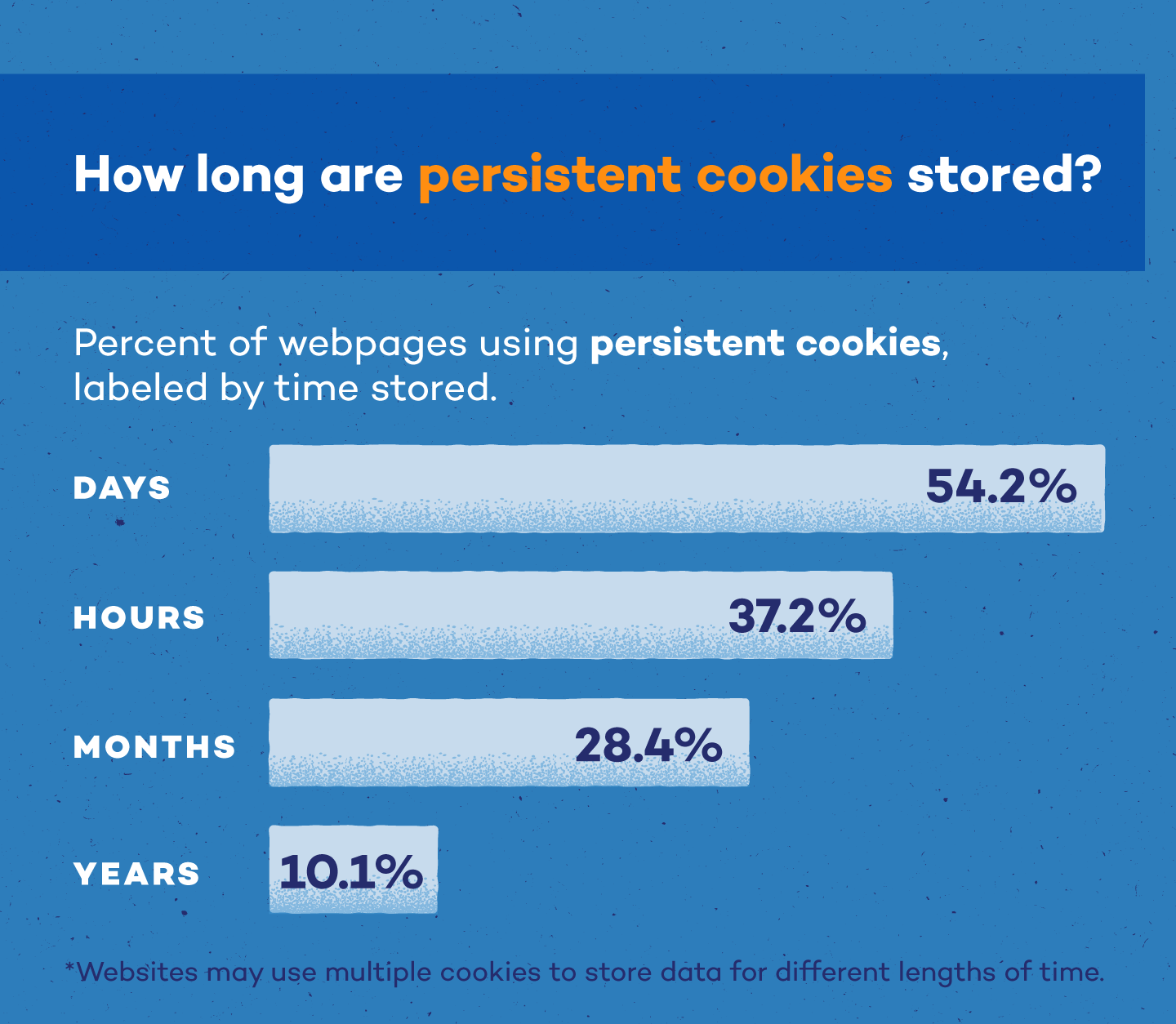 Should I Allow Cookies?
In most cases, cookies are useful. They create an online experience that remembers authentication, your cart, login information, and language or currency preferences. You'll want to keep them on trustworthy sites so you can efficiently browse with a personalized experience.
On the other hand, allowing cookies on websites that appear to be a threat could be harmful to your device. While cookies on their own won't harm your computer, it's possible for hackers to infiltrate the information that cookies store to track your browsing history.
What Happens If You Don't Accept Cookies?
While you may have to re-enter information, it's not necessarily bad to disable cookies from websites—you just won't have the optimized experience you're used to when firing up your browser. If privacy is your number one concern, it may be advantageous to disallow cookies to avoid the unlikely potential of unauthorized data collection.
How Do You Clear Cookies on Your Computer?
Like spring cleaning, it's a good idea to occasionally clear your cookies. Doing so reduces the risk of breaches. Keep in mind that some cookies, such as zombie cookies, require clearing your cache across video browser software, like Adobe Flash and Microsoft Silverlight, to avoid replication.
How to Remove from Chrome
In Google Chrome, you have the option to delete all site data or singular cookies. Analyze what websites are tracking your browsing history, and delete anything obsolete.
Go to the Chrome menu.
Select preferences.
Choose clear browsing data.
Select cookies and other site data and click clear data.
How to Remove from Microsoft Edge
Microsoft Edge doesn't have the option to delete single cookies, so when clearing your cache, make sure there's not important information stored that you want to avoid deleting.
Go to the Microsoft Edge menu.
Click clear browsing data.
Select Cookies and other site data and click clear now.
How to Remove from Firefox
Firefox allows you to delete multiple cookies, single cookies, or all saved cookies.
Go to the Firefox menu.
Select preferences.
Click privacy and security.
Go to cookies and site data and choose manage data.
Select the cookies you want to remove or remove all and click save changes.
How to Remove from Safari
In Safari, you can remove existing cookies and change your preferences to direct which cookies you'll accept in the future.
Go to the Safari menu.
Click preferences.
Select privacy and manage website data.
Choose to delete all cookies or a select few.
The cookies created during web site visits are stored to personalize the user experience. But are cookies bad? While a cookie itself isn't malware, there is the possibility of hackers infiltrating data from cookies, giving them access to your browsing history. Clear your cache, and give only trusted websites access to store cookies. As an added layer of protection, use antivirus software to scan for any known threats on your device.
Επιστροφή...